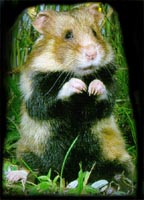 Click on the picture
for a bigger one (73 kB!)
This is the European Hamster, aka "Fieldhamster", "European black-bellied Hamster", Scientific name: Cricetus cricetus

Natural environment:
European lowlands, originally in the central and eastern parts of europe (Germany, The Netherlands, Belgium, France, northern Spain, northern Italy, Austria, Hungary, Slovenia and Russia).

Fieldhamsters are living in burrows up to 2m deep, building colonies that way, each burrow is in sight of others. Their behavior is very territorial and not sociable. They´re aggressive against humans and an encounter with them could result in serious injuries ! Invaders will be attacked - they don´t fear humans or other bigger animals.

So avoid invading their territory !